The best part about owning 15 dogs is bringing them out all together for fun activities! Recently we were invited by our veterinarian Dr. Elizardo V. Reyes to spend a day at his rest house in Concepcion, Tarlac. I was very excited to bring all of them because when I asked him if I could let my dogs swim in the pool, he did not hesitate with his answer.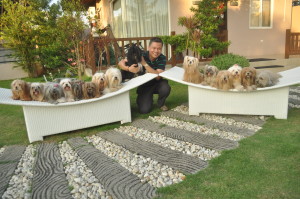 As soon as they were out of the van, all of them were running in the beautiful garden, my dogs were very excited and some of them were already headed towards the pool. Luther was the first one to jump in the pool. It seemed like he walked into the pool. (My husband Jason took off his pants and followed Luther right away!) Then Violet joined in, it looked like she was in the olympics. She was a very good swimmer!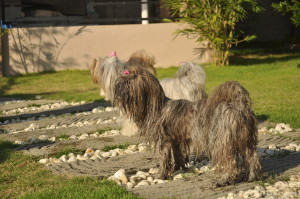 Dee Dee was the funny one. He was staying inside the corner of the pool and he was very content with the jacuzzi like experience! He was fur dipping for a long time and then he decided to go for a swim too beside my husband. Dee Dee's swim skills were quite impressive considering his weight and his long coat.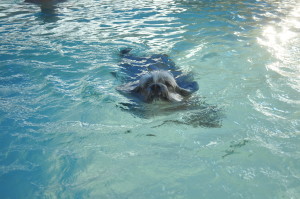 Shobe hates taking baths but she happily obliged and delighted us of her doggie swim strokes.
All of my dogs were happily playing in the garden. Some were busy swimming. Some were having nice little tans done to their coats. Hammie jumped in the pool as soon as I dipped my legs in! He was a very good swimmer and he looked like a merman with his god like straight cream coloured coat. Creamers (the tiniest little lhasa of all) was very entertaining as she moved her Yorkie like body out of the pool. Surprisingly, Bruce did not jump in the pool this time around. But I carried him to the pool so he could go for a quick swim together with his dear sister Lotus.
Wintermelon and Xerena did their own thing at the pool. Winty almost did a backstroke too! While twin sister Watermelon was busy getting her tan and she was very afraid to ruin her near perfect manicured toe nails. Ruffles, Snowflakes and Munchy watched their family members in amazement and awe while they were helping themselves in a buffet feast of green grass.
But most of all the Pooch Glamour baby who had the most fun of all was Baby Milo on his very first time to swim!