I really don't know how to begin this blog entry as I have been going back and forth if I am going to announce this or not. I have not had a litter of puppies for over two years and two months now (and yes this is planned). However through much effort of keeping track of all the mentrual episodes of my female apsos and keeping them separated from my male dogs during their heat cycle --- we have had an accidental mating.
Last February 14th, 2014 (yes exactly on Valentine's Day) two lovebirds have mated in the Pooch Glamour home. I don't know how on Earth that it was possible for Ruffles to have had such strong desire to mate with Bruce given that she was limping and shaking at that time and she almost could not use her legs already. Lesson learned: Nothing is impossible with a female in heat!
This all happened before I had her leg amputated and during the time of mating I was fully aware that she had Canine Osteosarcoma already. I admit that I had poor lapse of judgment thinking that even if she had menstruation, she would be unable to stand longer than 2 minutes for a male dog.
Two weeks after the mating, I had Ruffles' leg amputated. I told her veterinarian Dr. Eli Reyes about the accidental mating and he said the pregnancy might not push through since there will be a lot of antibiotics and medicines given during and after the surgery.
Ruffles is already 10 years old. Proof that age really does not matter. A month after her surgery she had a check up and I asked her veterinarian to also do an ultrasound. Ultrasound results came out positive! After having 25 litters from letter A-Y, I was happy, anxious and scared at the same time! I just couldn't believe that Ruffles was pregnant!
It was the longest labor ever. I even had to inject oxytocin on Ruffles' leg because it was taking so long and she had labor on a holiday. After injecting oxytocin, a black and white female parti coloured puppy was out. The puppy looked abnormal. Her eyes were already wide open, its supposed to be closed until two weeks of age. And she had a cleft palate problem. I knew that this was because of Ruffles' age and the abnormalities might have resulted from all the medications and prolong use of antibiotics during and after the surgery.
I was so sleepy and tired afterwards so I went to sleep at 1AM. I only wished for Ruffles to be well. I knew her black and white parti puppy would not live long...
Waking up after a few hours, I checked on Ruffles right away and to my surprise a gold and white parti female is inside the whelping area.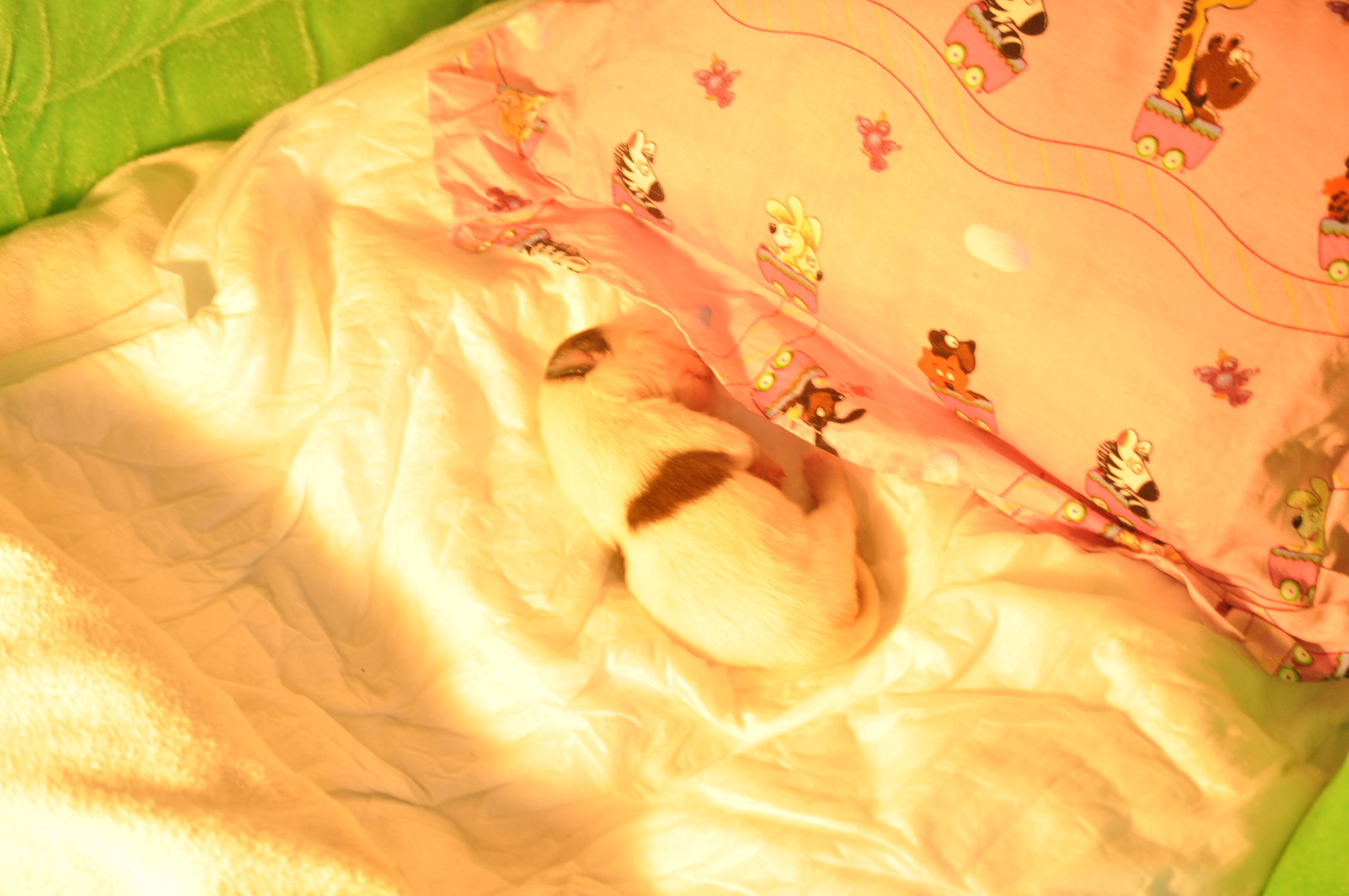 It's a true blessing and joy that we have a beautiful Lhasa Apso puppy again. If I am supposed to follow my alphabetical litter format this should be my Z litter. I am thinking of registering her as Pooch Glamour Zoe Barnes, since I have been hooked on the House of Cards series lately. Or maybe I will register her as Pooch Glamour Rosemarie.

Now that the secret is out, I will be posting more photos of sweet little Rosemarie on our Pooch Glamour Facebook page and Instagram account. Thank you for all the LOVE and thank you for all the LIKES! Have a great weekend everyone!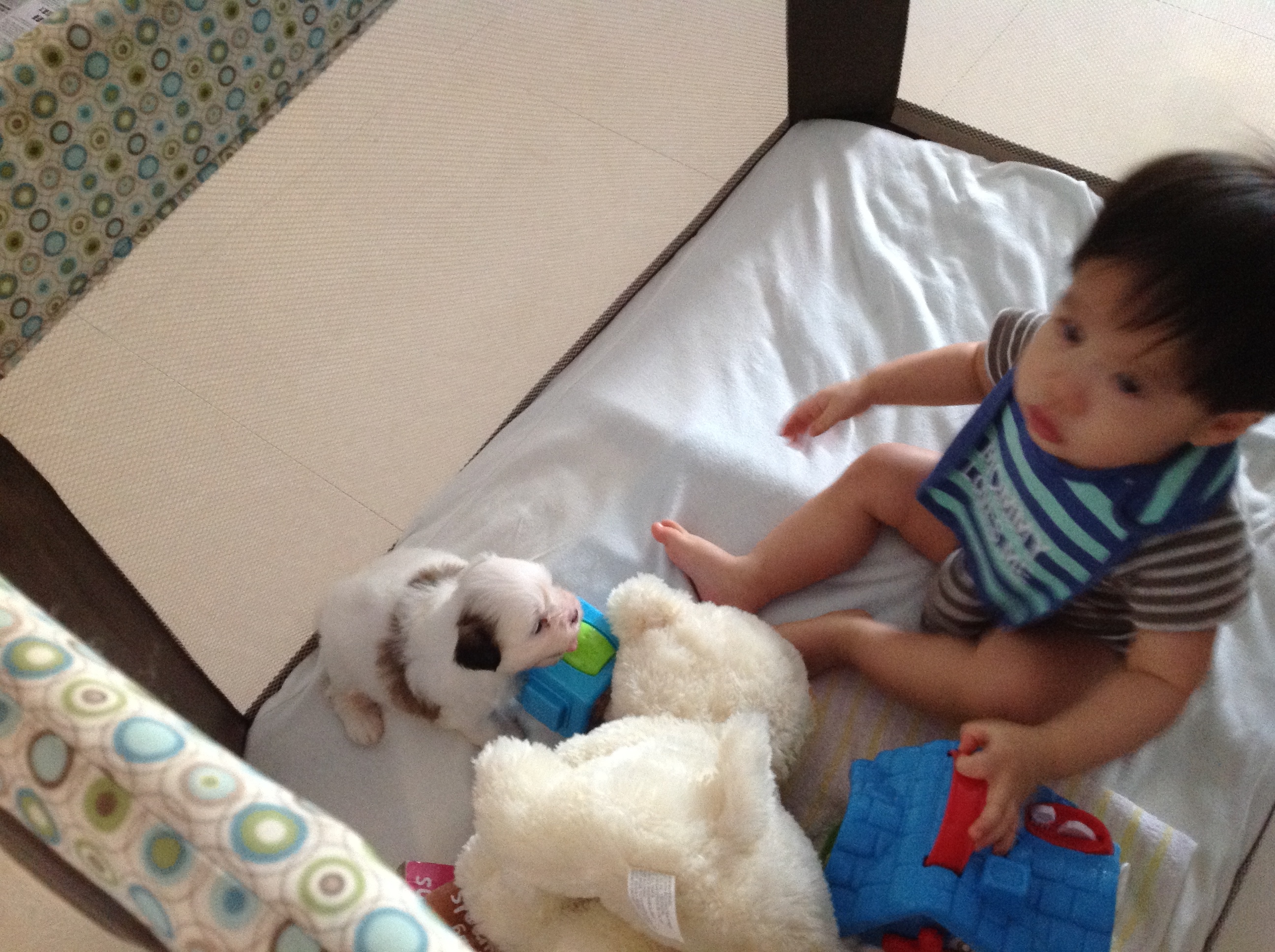 Here is Rosemarie with her "littermate" MILO